360 Siphon® Roof Vent Cap - Black
Ships in 1-2 days
Eliminate unwanted odors in your RV with a vent cap from Lippert™.
Quick Facts
Available in black or white
Built-in bug screen
Universal fit and easy installation
Prevents odors and gasses from invading RV living space
Speeds up waste breakdown, eliminating the need for chemicals
Made of strong polycarbonate
Works in any wind condition
Keep Your RV Smelling Fresh with Lippert™
The 360 Siphon® RV holding tank vent cap eliminates odors from the source — the holding tanks — and exhausts them out the roof vent before they have a chance to invade the RV living space. By design, the patented 360 Siphon can only create an updraft, expelling odors and fostering an oxygen-rich environment to speed up waste breakdown. Breathe easier and enjoy a healthy, odor-free living environment with the 360 Siphon.
This updated model helps you avoid as much roof sealant rework as possible, ensuring the installation process is a smooth and easy one.
360 Siphon Features:
COMPATIBILITY - Engineered for a universal fit, the 360 Siphon is compatible with all RV vent caps
DURABILITY - Built with polycarbonate, the sophisticated, patented design of this vent has no moving parts
KEEPS PESTS OUT - A built-in screen helps ensure bugs stay out of your RV, for a worry-free camping experience
EFFICIENT DESIGN — Creates an updraft to exhaust odors through the roof vent, giving campers a healthier, breathable environment, in any wind condition
How it Works
The 360 Siphon creates an updraft to exhaust odors through the roof vent, before they invade the RV living space - giving campers a healthier, breathable environment, in any wind condition.
What's Included
Choose from either a black or white 360 Siphon. The universal design makes this a great choice for any RV.
Parts you can trust
Our team at Lippert knows that having broken, worn, or malfunctioning RV equipment can put a damper on even the greatest weekends of camping. That's why we're committed to providing our customers with the replacement parts and equipment needed to get your RV off the sidelines and back into the great outdoors.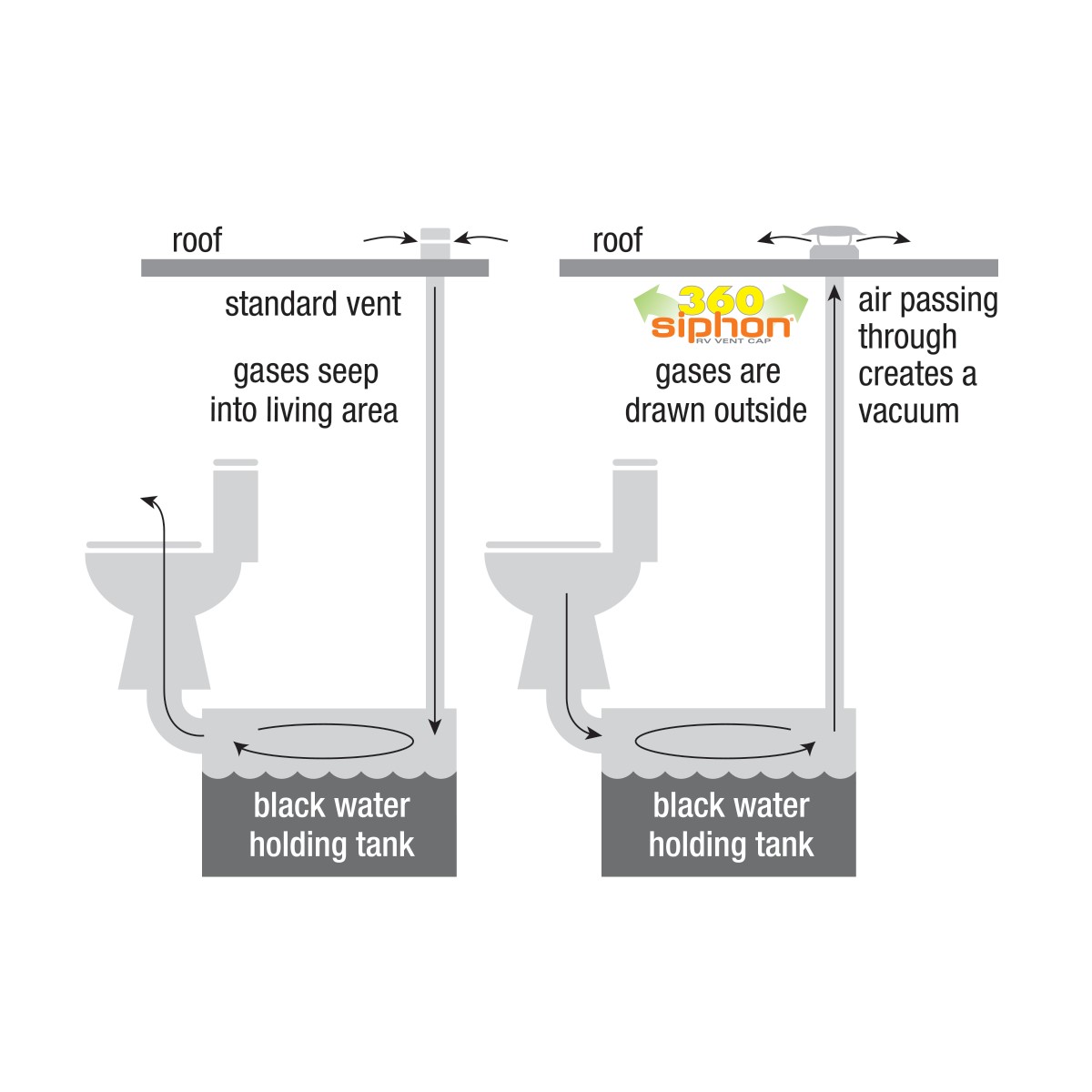 The RV Doctor Presents The 360 Siphon® Roof Vent Cap
More Information

| | |
| --- | --- |
| SKU | 389380 |
| Brand | Lippert™ |
| Series | 360 Siphon® |
| Quantity In Package | 1 |
| What's Included | Vent Cap,Cap Base,Funnel,Collar,Instruction Manual |
| Material Type | Plastic |
| Product Color | Black |
| Country of Origin | CAN |
| Warranty Term | 1 Year |
| Unit of Measure | EA |
| UPC | 848150037459 |
| Supersedes SKU | 364464 |
| Jayco Part Number | 0267502 |
Support Documentation
Explore manuals, videos, FAQs and more associated with this product.
Learn More