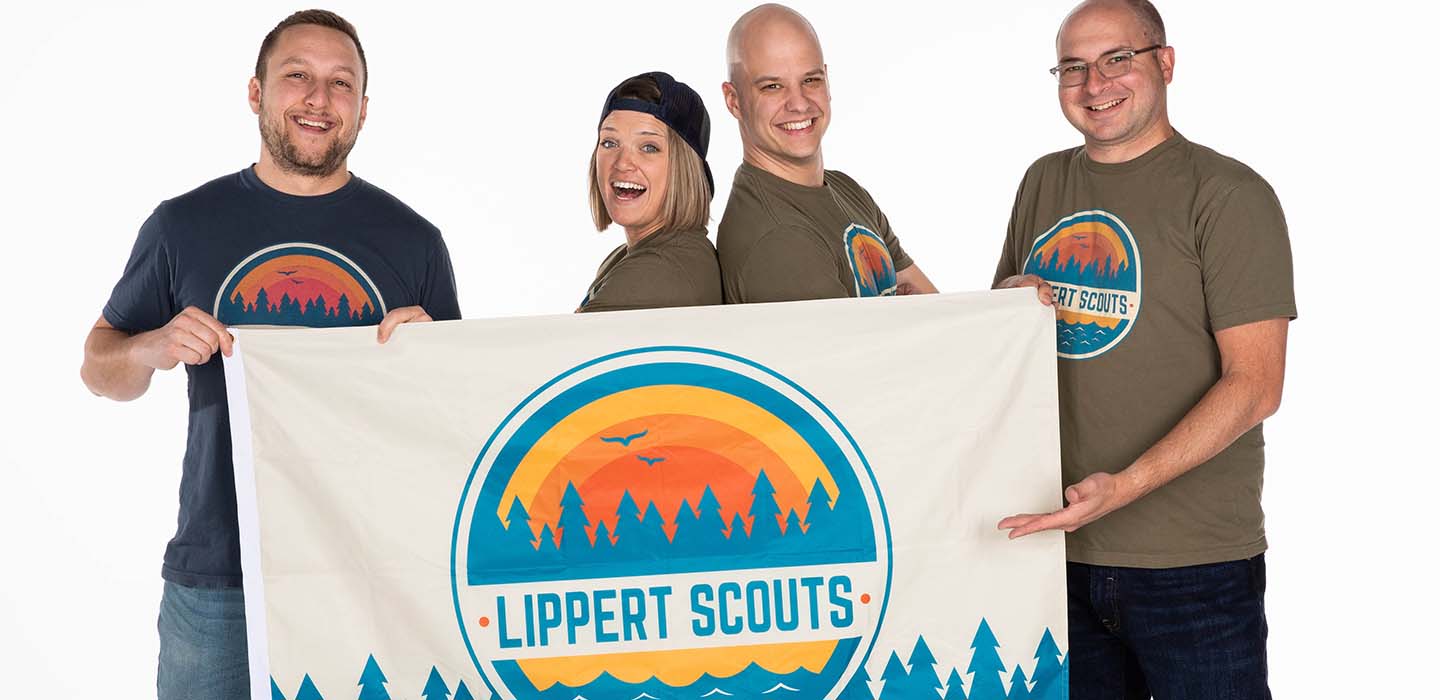 Lippert Scouts: The Community — More Than an RV Forum
Our community is dedicated to giving campers like you a place to share reviews and feedback on the RV products you're using — as well as RV experiences that no product has yet solved. Plus, this is a great space to meet fellow campers, swap RVing tips and hacks, and most importantly, help innovate and grow the RVing industry as a whole.
Are you up for the challenge? Join the community today!
What is the Lippert Scouts Community?
Launching in November of 2020, this RVing and camping forum was created to help give our team at Lippert the valuable feedback and insights we need to enhance your time spent outdoors and on the road with better products and services. You share, we listen. It's really as simple as that.
Have something to say about your tongue jack, Slide-Topper, or power awning? We want to know! Whether you're towing a 5th wheel or travel trailer or you're cruising in a motorhome, good or bad, we want to hear about your first-hand experiences on all the products you use during your adventures. You can think of this forum as the ultimate suggestion box for RVing!
From surveys and testing new products to live chats with our Scouts team members, all of your feedback will be used to drive product innovation and development for our team at Lippert — all so we can better serve you for years to come.
Why join the Lippert Scouts Community?
Uh, why wouldn't you join this awesome group might be the better question! This forum gives you the opportunity to make a true difference in the RVing industry. Seriously. Your feedback will be used to directly push the possibilities of our products and services. You could potentially be holding the key to unlocking the next BIG thing in RVing! But we'll never know unless you join our group and share!
Also, even though our mission is to innovate, inspire, and grow the RVing industry together, we're here if you have a need for support as well! Resources are always available within this group to get you connected to our team members at the Lippert Customer Care Center.
Still need more reasons to join?
Have we mentioned connecting with other RVers? This group is a great way to meet new people, swap your favorite camping stories, and trade RVing tricks and hacks you've picked up along the way. You'll even get the opportunity to meet some of our team members at Lippert! But don't just take it from us, here's what some of our group members have to say…
"Refreshing to see a company put themselves out there for an across-the-board approach to better the RV/Marine markets. It's a win, win for LCI and the consumer…"
"Really cool to hear from the head of the company. It's so nice to see a CEO who is so down to earth and interested in making it all about the customer experience."
"Great new additions!! Thanks for implementing so many of the suggestions by Scouts! How cool is that!?"
Who can join the Lippert Scouts Community?
Lippert Scouts is an open group. Whether you're a full-time RVer or just starting to shop around for your first rig, we want to hear from all campers, seasoned or new. The more voices we have, the more we can accomplish! If you're an RVer of any level and have something to say about products, services or the RVing lifestyle, then this group is for you.
All you have to do is sign up completely FREE! Once you're all signed up, don't forget to download our app (available for Android and iOS) for the full experience!
Join the discussion today! Become a member of Lippert Scouts: The Community!