Parts of a Pontoon Boat Explained
Whether you're new to boating entirely or thinking of trading your deck boat for a pontoon boat, you'll want to know the correct terminology to best understand what exactly you're getting into. While there is a whole new vocabulary associated with owning a boat, pontoon boats come with their own unique set of terminology that sets them apart from the crowd. In this post, we've detailed the most commonly used phrases related to parts of a pontoon boat. Let's dive in!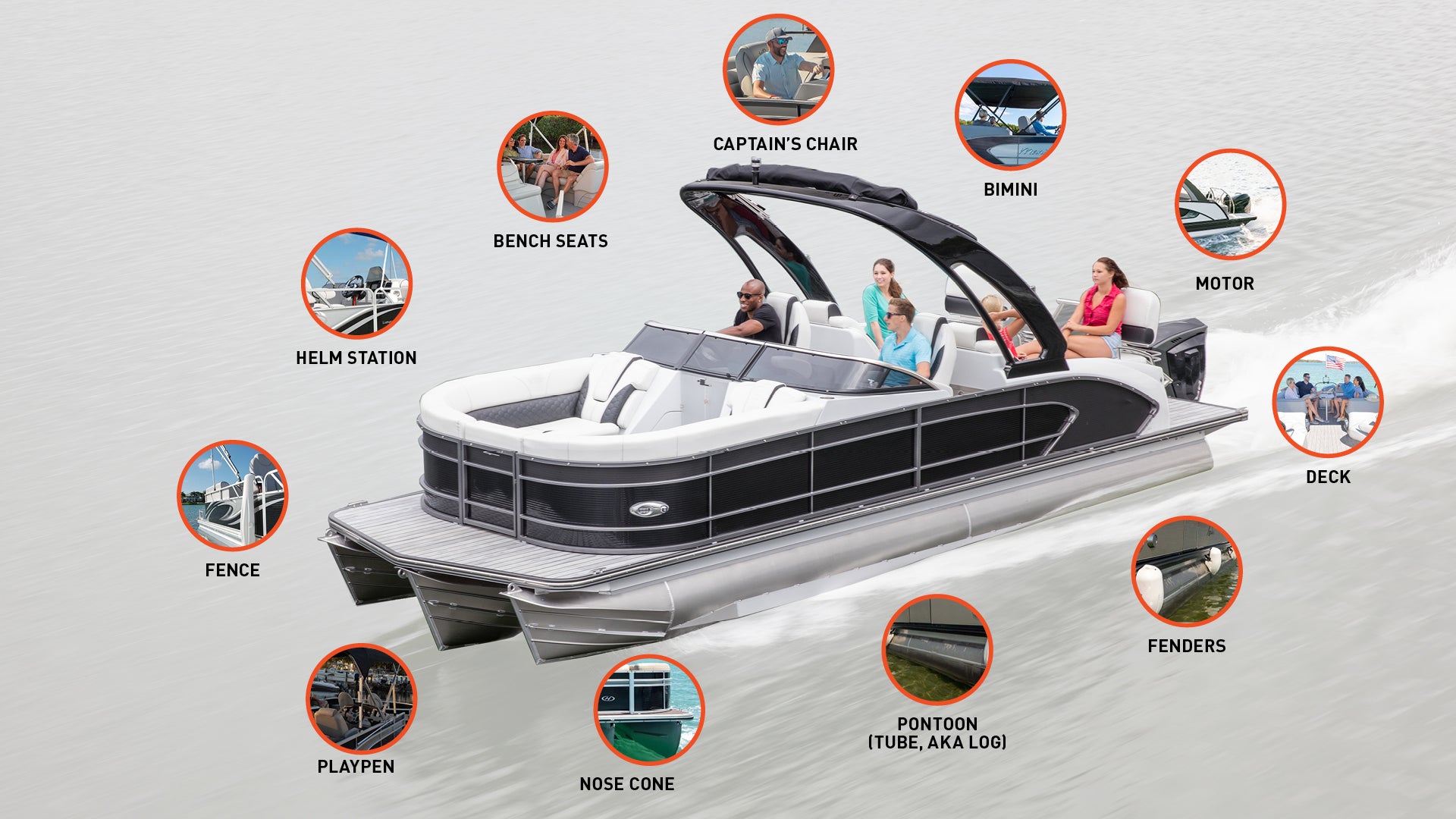 Pontoon Boat Parts You Need to Know
Bench Seats
Pontoon bench seats come in a variety of lengths that can accommodate a group of passengers. Not only are bench seats the most comfortable spot to relax onboard your pontoon boat, they're also functional, featuring hinged cushions for dry storage of life vests, extra towels and more.
Captain's Chair
The name says it all with this one. Captain's chairs are located on the starboard side of the pontoon boat at the helm station. They are often mounted on a pedestal, giving the captain a clear view of the water.
Helm Station
Positioned in front of the captain's chair, the helm station houses a pontoon boat's navigation controls as well as switches for electrically powered aftermarket upgrades such as a power bimini, shallow water anchor or other pontoon boat accessories.
Fence
Arguably one of the most distinguishing characteristics of a pontoon boat is the fencing. Made of aluminum sheet metal, pontoon fencing is comprised of a series of panels that lies against the frame. The pontoon fence can be painted or wrapped in a variety of colors and often features graphics.
Bimini
Made from marine-grade canvas atop a durable metal frame, bimini tops provide much needed respite from the sun's harsh UV-rays. Available in both manual and power-driven options, pontoon biminis are open air shade structures that can be stowed when not in use.
Playpen
Aptly named, the playpen is the area on a pontoon boat's deck that is inside the fence. Here you'll find the boat seating, storage and helm station. What's more, a boat cover for a pontoon boat is often referred to as playpen cover because it predominately protects the playpen area.
Fenders
Although every type of boat can benefit from the use of cushioning fenders to safeguard against bumping the dock, pontoon fenders feature a unique shape that allows them to fit snugly between the pontoon and deck.