Paws for Love: Meet the Conlon Family
Hi Friends! We're Sean and Christina Conlon of Paws for Love. This year, we're traveling the country, in our Grand Design Reflection, volunteering with our English Cream Golden Retriever therapy dog, Nash! Nash is a spunky and sweet, 3-year-old who is quite the social butterfly and is full of personality. He absolutely loves everyone (and every dog) he meets and was, without a doubt, made to do therapy work.
How Our Story Started
In December 2015, our last Golden Retriever Beau passed away unexpectedly. It shattered our hearts (and to this day, we still mourn his loss). We had always wanted to get Beau trained and certified as a therapy dog but due to some mobility issues, we ultimately made the decision not to do that with him. We knew when the time came to get another puppy, that therapy work was something we wanted to do. We find so much joy in sharing our pups with others (and no one can resist a golden)! Once we got Nash, we got him trained and certified as a therapy dog and started volunteering in Nashville, Tennessee (which at that time was our home) in schools, after school programs, police stations, and fire departments. We saw people light up around Nash in such a genuine and unique way. It was at that point that we saw a dogs' true purpose on this earth – to bring joy and comfort to others and to give us a way to connect with those around us. But as we all know, once COVID hit, everything came to a screeching halt. We couldn't serve with Nash any longer, but we knew we had to do something!
Making Moves
In a time where our country needed therapy dogs more than ever, we felt called to do something bigger and more hands-on. So we sold 90% of our stuff, got our RV, and now spend our days traveling the country volunteering with Nash any chance we get and sharing our journey digitally through YouTube and Instagram (what we now call "digital therapy")! Thankfully, we have partnered with Lippert and the Lippert Cares Program to make the Paws for Love Tour a possibility! Without them, we couldn't have done the tour all on our own.
Once we told our family and friends what we were going to do, it was a mixed bag of emotions! Some people were so excited for us, others were incredibly hesitant. After all, selling your stuff and moving into a house on wheels that's < 300 square feet isn't for everyone. We both have always had an entrepreneurial and adventurous spirit, so we were excited and ready for the season ahead! I mean, how cool that we'd get to travel the country and volunteer with our Golden! Not much tops that in our opinion!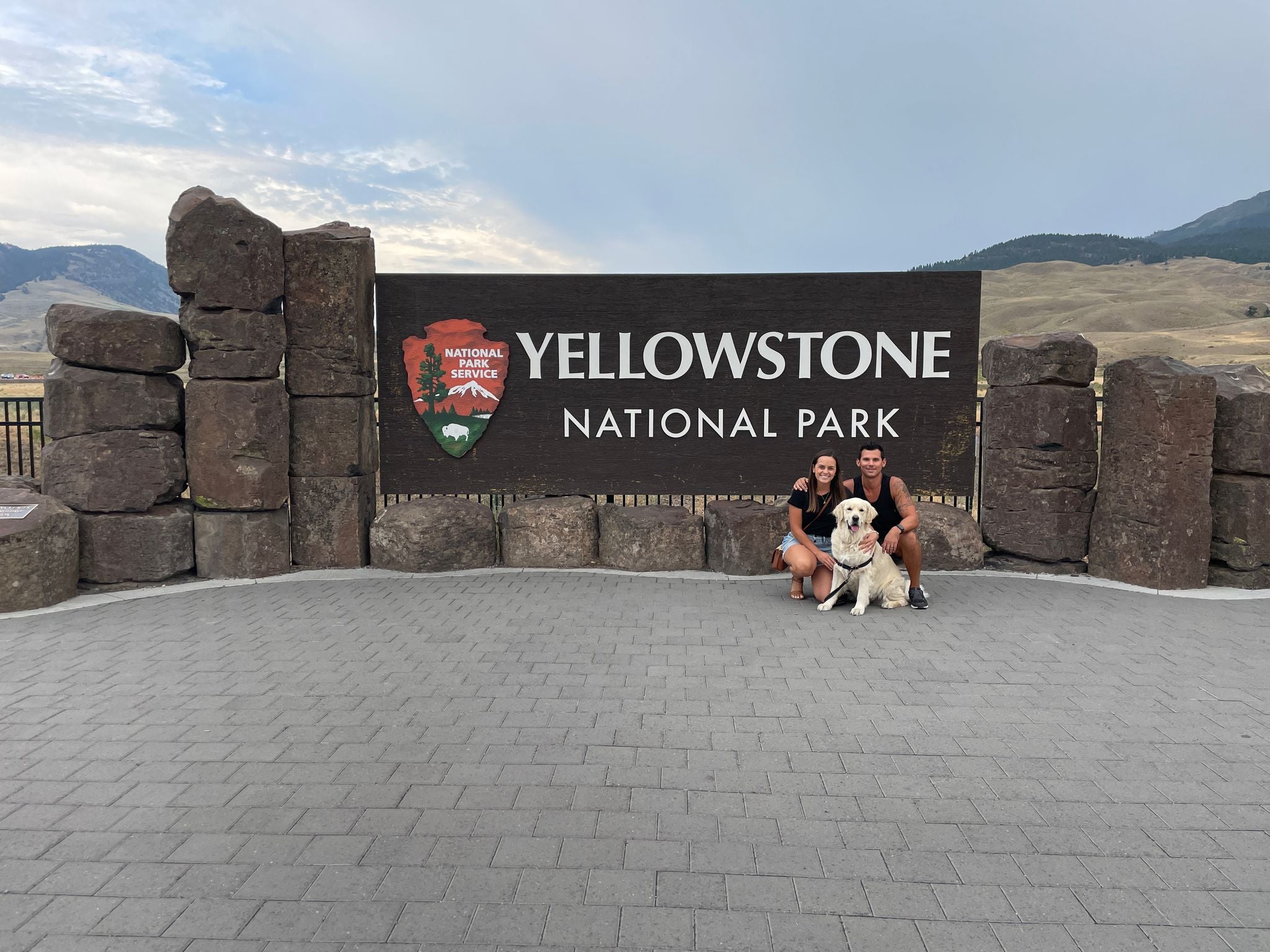 Living the RV Lifestyle
Once our stuff started selling and we purchased our RV and truck, it was game on! We had about 30 days to piece everything together, learn how to operate our new rig, and fully move out of our house. As you could imagine, the start of our RV journey was a bit chaotic. We felt like we were drinking from the RV fire hose. It was wild, emotional, overwhelming, and awesome all at the same time.
The biggest challenges we faced early on was simply the crazy number of things we had to learn (and quick). Sean spent hours researching the best hoses, electrical options, towing equipment, water filtration systems, internet options, etc. While I spent my time organizing our new home on wheels, getting Nash acquainted our new space, and selling every last thing we didn't need. Ever since we've been on the road (we left Nashville November 11, 2020), we've been fine tuning our process and our setup (which I'm pretty sure will never be "perfect"). We're always learning and always growing, but we finally feel like we've found our groove (which I feel came around month 6). If you're thinking of RVing or just started full timing, give yourself and your family grace. A big life change like this will have bumps and everyone will adjust at different speeds, but you'll get there. I promise, it's worth it!
Our Tips for New RVers
The first few months of RVing, we felt so overwhelmed. We had just gone through such a huge life change and parted with so many things (from our car, to our bed, even our dishes!) to diving headfirst into RV life and planning the Paws for Love Tour. Looking back, I wish we could have taken some time to just relish in the newness of it all and savor it. But as we know in life, there isn't always time for that. My suggestion to new RVers… don't rush it. Take the time to sit in your new RV when it gets delivered into your driveway and just take it in! You'll never get those moments back. Some other suggestions for those thinking about going ALL IN and full timing:
1. Do your research!!! And then research some more
Find the rig that fits your needs and budget, watch all the YouTube videos, ask questions, be humble and learn from others.
2. Spend as much time in your rig as possible before making your official move-in.
Eat dinner in the RV, spend the night in it with your whole family (this really helped Nash), have a movie night before taking off, do a "trial run" one weekend to see what you need to change and see what works/doesn't work.
3. Be honest with yourself about what you're bringing with you (and if it turns out you don't use it or need it down the road, get rid of it).
There is something beautiful about simplicity! We learned early on that LESS IS MORE when it comes to an RV. Decorate simply and intentionally, keep your counters clear, use the "one in, one out" rule, try going for a capsule wardrobe (you don't wear as much as you think you do), separate clothing into seasonal piles (and keep the out of season clothes under your bed) so you only have what you need out. If you're not using something, donate it or sell it!
4. Know that RVing won't be perfect, but it'll be pretty great.... most of the time!
We say RVing is amazing 90% of the time and hard/frustrating/annoying 10% of the time. Set your expectations accordingly. Things will break (especially on a brand-new rig), weather won't cooperate, plans won't go your way, but the point is that you are creating such strong memories as a family, whatever that looks like for you. Perspective is everything!
5. Get ready to meet some of the most amazing people!
RVers are amazing! They are some of the sweetest, most generous, loving people you will meet. You will be so surprised at the commonalities you'll have through this lifestyle, no matter the stage of life you both are in. It's amazing getting to meet so many people, but the hardest part is the "see you laters". Thank goodness for technology and social media to keep us connected until we meet again!
Where We Are Today
As of right now (August 2021), we've driven through 23 states and have officially visited 12, and we have no plans of stopping anytime soon! While we initially planned to only travel for this year, but we feel like we're just getting started! You learn very quickly that a year "just isn't enough" to see the whole country and it's true! Nash has so many more friends to meet! We are absolutely hooked on the RV lifestyle. There is something so freeing about the simple life this lifestyle brings. Now to figure out how to configure our RV to accommodate a puppy brother for Nash (and kiddos) down the road! Advice is appreciated. :)
If RVing and the tour have taught us anything this year, it's to savor the small things and remember that even the smallest gestures can mean the world to someone. It sounds cliché, but it's so important to remember that we never know what someone is facing in their personal life. Showing up is what matters. Talk to the person next to you. Invest in a conversation with them. It doesn't have to be perfect to make an impact. Every day we look at Nash, we see the beauty in simplicity. He doesn't care who we are, how much money we make, or what we wear. All he cares about is the love we give him (and the food of course, let's not kid ourselves!).
Follow Our Story!
We hope our story encourages you not only to live a life of less and to RV full-time (because we think it's pretty amazing!), but to do it with purpose! For us, it's volunteering with Nash, but for you it can be something completely different and that's beautiful! Remember there have been dreams placed on your heart for a specific reason, so go out and act on those! #RVWithPurpose
We share our journey (and a lot of behind the scenes with Nash) on Instagram and YouTube and would love for you to follow along! You can find us @PawsForLove. Be sure to say hi and introduce yourself. We'd love to stay connected and learn more about YOU!
Hope to see you out on the road soon!