RV Trip Checklist for First-Time Owners
How to Test & Prep Your Rig
Your new RV just arrived and you're ready for your first adventure. That's exciting! But, before you hit the road for the first time, there are some important checks you should perform to avoid surprises when you're miles away from home (and, most likely, from your dealership as well).
This first-time RV trip checklist will help you make sure everything is functioning properly. Moreover, by simply powering up and testing these systems, you'll get some basic knowledge about how they operate. It's much less stressful to do that now, before leaving home, rather than when your entire family is watching and waiting.
Exterior Checklist for First-Time RVers
1. Open & Close All Doors
It seems like your doors should work, right? But, let's not assume anything. Make sure all exterior access and baggage doors, along with interior cabinet and access doors, open, close, lock, and are aligned properly. Open and close all the doors multiple times throughout your first camping trip, especially after leveling your RV at a campsite. Some of your latches may eventually need replacement and/or adjustment to be sure doors open easily and stay closed during travel.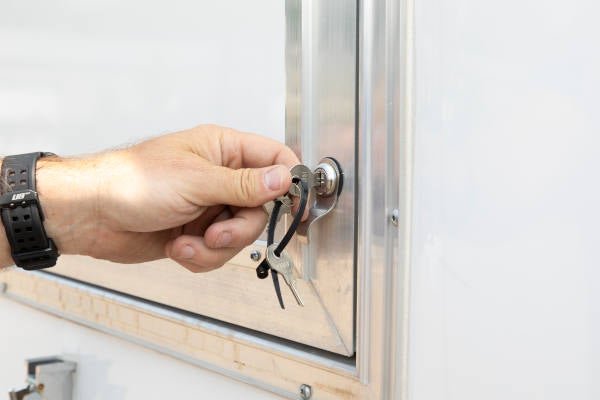 2. Test Your Slide-Out
3. Inspect Your RV Awnings
Open and close your awnings several times including your patio awning, slide topper, and window awnings, depending on what your rig is equipped with. It's a good idea to leave your awnings out during a light rain to confirm that water rolls off the fabric and is not intruding in unexpected and undesirable spots. If it's windy and your awning is equipped with an auto-retract wind sensor, make sure that it works as advertised. However, please be sure to never leave the awning open unless you are there to keep an eye on it. Bad things can happen to unsupervised RV awnings.
If there are any issues with your RV awning, Solera Universal makes it easy to upgrade, fix, replace, or even add power to your RV awning.
4. Try Out Your Jacks, Stabilizers & Leveling System
One of the first things you're going to need to do when you arrive at your camping destination is level your RV. Be sure you know the tips and tricks of how to level an RV as well as how your particular leveling system works. Whether it is manual, fully automatic, or a hybrid setup, test it out.
Make sure all jacks are functioning including your tongue jack if you have one.
If you have auto leveling with a control pad or app, be sure you test it out and understand how it works.
Do you have the stabilizers you need to prevent your rig from rocking and rolling? Some rigs have them pre-installed, some don't.
Do you have wheel chocks, and are they stowed for easy access upon arrival?
Do you plan on using leveling blocks, and are they stowed for easy access upon arrival?
If you have a motorhome and plan to tow or flat tow a vehicle, then you'll want to do the same for that setup.
5. Check Your Tires
This seems like a given, but it is your first time, so let's be sure to check it off the list. Make sure your tires are…
Inflated to the proper pressure
Free of cuts or other damage
Good to go with their tread depth, especially if your "new RV" is a used one
Did you know you can add a Tire Pressure and Temperature Monitoring System to your RV that functions very much like the TPMS that came with your car or tow vehicle?
6. Check Out Your Towing Setup
If you have a travel trailer, pop-up, toy hauler, or fifth-wheel, make sure you inspect your tow setup and know how each part functions and operates. Depending on your tow vehicle and rig, you'll want to look over your…
Trailer hitch
Ball mount
Trailer coupler
Hitch pin
Sway bars and weight distribution, if you have them (if not, they are worth considering)
Fifth-wheel hitch rails, base and head or gooseneck adapter and pin box
Safety chains
Any other part that connects your rig to your vehicle
If you have a motorhome and plan to tow or flat tow a vehicle, then you'll want to do the same for that setup.
Interior Checklist for First-Time RVers
7. Power Your RV Up
Power your RV for several hours using the generator — and we mean really use it. Turn on the A/C, watch TV, confirm your appliances all work off this power source. Once you've checked out the generator, it's time to test the inverter. Unplug the RV from all power sources, turn on the inverter, and determine which outlets and appliances run off it. Get to know the limits of your inverter's power. For example, can you watch TV while charging your laptop?
8. Test the Electrical Systems & Electronics
While you're running your generator, be truly mindful about how well all the electrical systems work. You'll want to test everything again on shore power as well, but, with the generator running, test your electronics.
Listen to music, watch TV, and charge your phones and laptops.
Does your air conditioner sufficiently cool your RV?
Does the heat pump and/or furnace (if you have one) work properly?
Is your fresh water pump doing its job?
At night, turn on all the lights inside your coach.
Check your compartment lighting, headlights, running lights, taillights, etc.
If you notice any issues with any appliance or light, get them checked immediately to ensure there's not a larger electric issue. And, while you're checking the power, inspect all your RV gadgets for scratches and nicks as well.
9. Check the Propane & Water Systems
Test all the devices that run on propane: furnace, water heater, fridge, stove, etc. Fill your water tanks (just don't overfill them), and make sure the level displays work. Confirm that all the dump systems function properly and the readouts are accurate. Try out the toilet (need we say more?). Ensuring that these systems work well and that the readouts are accurate will help you in general, but it will be especially helpful when boondocking since you'll really get a chance to see how many days you can go before needing to refuel or dump your tanks.
10. Try Out Your Water Heater
Try running the water heater on electric one day and then propane the next.
Is the water hot enough?
How long does the hot water last while taking a shower?
Drain and refill the tank to see how long it takes to heat the water back up.
This is a great way to understand how long it takes the water to warm up after your spouse has taken a long hot shower!
11. Get in The Driver's Seat & Rev Your Engine
Push your engine to understand how it performs under stress. Drive up hills. Drive down hills. Drive at 10 mph and at 60 mph. Listen to your engine for odd sounds. (Of course, safety always comes first, so don't do anything against the law or drive at unsafe speeds or grades.)
12. Inspect the Weatherproofing
You should check for leaks with a water hose before you head out, although nothing compares to a natural soaking from mother nature. So, if a good storm comes along, embrace it.
Try out the windshield wipers.
Check every corner of your RV for leaks.
Pay special attention to: the roof, doors, vents, air conditioner and windows, as these are the largest culprits for leaks. Repair any leaks before departing!
First-Time RVers Should Be Sure to Not Forget These Things
13. Tools, Supplies & Some Fun Stuff
We're sure you've already considered food, drinks, kitchen supplies, toilet paper and other camping essentials, but here are a few things that might not have occurred to you as a newbie. These aren't just a good idea, they are necessities for a relaxing and fun RV camping adventure…
Hoses and cords including, but not limited to, your sewer hose, water hose, shore power cords, extension cords and surge protectors with multiple outlets.
A basic RV tool kit including wrenches, screwdrivers and other common tools.
A good, general RV lubricant. Even new parts can get stuck, especially after driving down dirty roads.
Spare fuses, light bulbs, batteries, zip ties and duct tape will come in handy.
A few good flashlights, lanterns, and anything else you might need if power supplies or your generator fail.
Sunscreen, insect repellent, citronella candles and the like, along with some clothing that will keep insects at bay.
And, it's not necessarily glamping if you want to bring some nice camping accessories and fun toys along with you, especially if they entertain the kiddos.
14. Check Fluid Levels & Propane before Driving Off
We know it's a new RV, but that doesn't mean that all fluids are where they should be. Make sure everything is topped off including your oil and washer fluid. Check your propane tanks too – you'll be glad you did.
15. Get Roadside Assistance with Towing & Service Coverage
Make sure you have AAA, Good Sam, Coachnet, or a similar hazard plan before you go on that first camping trip. Many new RVs come with towing-service coverage, though it's your responsibility to understand the towing-mileage limits before heading out.
16. Leave No Stone Unturned
Speaking of future road trips, it's not a bad idea to look into extended warranties when your original limited one runs out. Many RVers swear by their third-party extended warranties.
And, finally, the idea of "leaving no stone unturned" shouldn't stop after your first RV trip. Be sure to perform maintenance tasks regularly to keep your vehicle operating smoothly and help you find and fix small problems before they become big ones.
Now that the physical work is done, are you looking for more tips on getting the most out of your RV experience? Check out this handy list of 100 Best RV Tips. And, here's some great advice on how to keep your new RV looking like new. Good luck and happy RVing! You're going to have a lot of fun!