Enjoy the Ride with Taylor Made Towable Tubes
Today's forecast, sunny with a high chance of excitement and speed! There's still a bit of summer left, so grab your friends and get ready for fun on the water with Taylor Made towables. With our collection, thrill-seekers have their choice of tube styles, including seating options, colors and more!
Taylor Made Nebula Towable Tube
This round, bright multi-colored towable tube with sublimated graphics on the top fits up to three riders and offers a fast and floaty ride on the water.
Taylor Made Wild Wave Towable Tube
This towable tube offers two versions, the Wild Wave 2 for two riders and Wild Wave 3 for three riders. This deck tube is versatile and can provide a thrilling adventure taking on the wake action or used as a relaxing floating island for a leisurely day at the lake.
Taylor Made Chaos Towable Tube
This towable tube offers a two-person and three-person option. The Chaos has an inflatable topside stability fin that helps keep riders on board no matter the conditions.
Taylor Made Tidal Wave Towable Tube
Both the two-person and three-person tubes are available, and the Tidal Wave offers an easy swap from traditional to couch-style seating.
Taylor Made Shockwave Towable Tube
This towable tube is ideal for up to three riders for both an exciting and comfortable day riding the waves with its inflatable cockpit seating and backrests.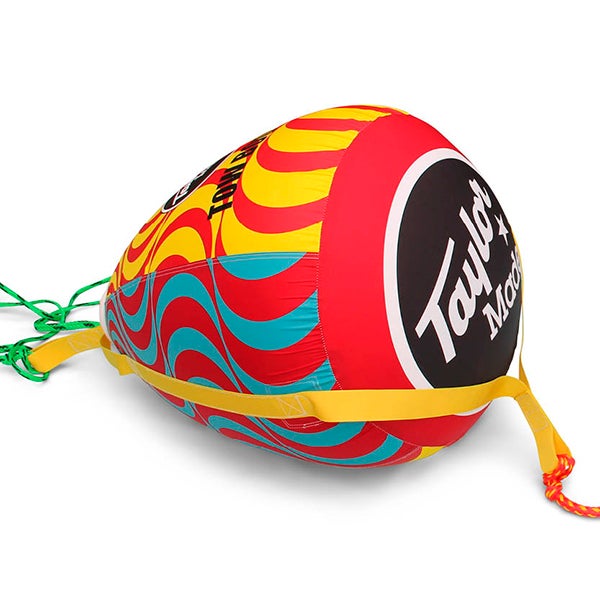 Taylor Made Towable Tube Booster
The Taylor Made booster ball is also available, minimizing any drag and enhancing the tube's performance on turns and slides.
Taylor Made Tow Rope
You don't want to forget the tow rope! We have options for two to four riders with adjustable lengths from 50 feet, 55 feet and 60 feet.