Why the Waste Master Is the Best RV Sewer Hose by Love Your RV
Lippert is sure we have the best RV sewer hose on the market, so when we contacted full-time RVer Ray Burr, he was more than thrilled to put our brand new RV waste management system to the test! Here's what he had to say...
My wife Anne and I have been RVing full-time for more than 4 years now. Anne thought I had gone off the deep end to be so excited about a new "poo hose." She clearly isn't the one who does the dirty deed. Also, this isn't a run-of-the-mill RV sewer hose. The Waste Master® 20' Hose Kit and Cam Lock Connector incorporates some very cool new innovations to RV sewer products. I could hardly wait to get my hands on it to check them out for myself.
I had explained to Lippert my specific needs as a full-time RVer and avid boondocker, and they were nice enough to include several optional add-on pieces. I need to be able to extend the sewer hose to at least 20 feet for those older style campgrounds with the sewer holes placed way at the back. Plus, I wanted to retain the ability to use my old RV sewage hose gadgets.
Unlike some RVers that stay at only a few RV parks with conveniently-located sewer drain holes, I travel extensively and stay in a large variety of RV parks and campgrounds. We also dry camp frequently, so I end up using many different styles of sewer dump and drain arrangements. I've even been in parks where the sewer hole was on the opposite side of the rig!
Ray's Review of the Lippert Waste Master RV Sewer Hose
Hooking Up The Waste Master
First thing I needed to do to use my new Waste Master system was modify the sewer output pipe on my Cougar fifth-wheel. Rather than using the standard RV bayonet connection, the Waste Master uses an improved cam lock connector. The mod is fairly straightforward: just saw/file off the bayonets, sand and clean the surface, then glue on the new cam lock connector.
After the new cam lock sewer connection output is ready, hooking up the Waste Master is a breeze. The cam lock is awesome! It makes for a very leak-proof and secure connection. At the other end of the hose is a 90-degree elbow with a rubber sewer donut built into the end. This makes it easy to use in any size sewer drain.
One thing that has been an issue for me is poorly-designed or worn-out sewer drain holes. I've been using a screw-in type connector and it's been difficult to get a good seal. I think this rubber donut design will work much better. No more fiddling with a stinky sewer drain trying to get my sewer connector to thread in and point the right direction.
Waste Master Features
There are many cool new features which, in my humble opinion, make Waste Master stand above the rest...
CAM LOCK CONNECTION
It is night and day when it comes to quality compared to the typical bayonet used on most sewer hoses. The cam lock has a very heavy industrial feel and was clearly built to last.
EXTERNAL HOSE RIBS
Most sewer hoses have ribbing on the inside of the hose, but the Waste Master places it on the outside. This makes for a smooth inner pathway for waste to travel and allows you to extend the hose only to the length you need.
ON/OFF VALVE ON THE HOSE END
I really like this feature. I have been at a few parks where the sewer system became plugged or overloaded and the drains backed up. With this extra valve, I can shut off the flow quickly and not flood our campsite with the stinky stuff.
MADE WITH HEAVY-GAUGE PLASTIC
All the plastic pieces in the Waste Master are super heavy duty. I like the solid-feeling 90-degree elbow with the large built-in handle.
GREAT EXTENSION ABILITY
The Waste Master hose measures 5 feet 6 inches compressed and a whopping 20 feet fully extended. Unlike other longer hoses, it stays in place to exactly where you extend it without snapping back.
CLEAR SEWER WINDOW
I love the built-in clear section for monitoring waste flow. Very handy when flushing out your RV holding tank.
HOSE END CAPS
Waste Master comes with an end cap to keep nasty odors in the RV sewage hose and not in or around the rig.
Flow Down Hose Support
The Flow Down comes with several sections of plastic half pipe and a bunch of adjustable feet. It is a little more complex to deploy than the Camco Sidewinder supports I still have from an old Camco Revolution hose, but has one feature that I really like: The vertical metal support rods are independently adjustable. This makes it easy to support the hose over all kinds of obstacles or undulating terrain while still maintaining a downward grade. I was also impressed with how easy it is to adjust. The support legs can be used the other way around with the knobs down to create a sturdy platform in soft soils.
Cam Lock to Bayonet Fitting Adapter
One thing I was worried about when switching my rig's sewer output to the cam lock system was losing the ability to use the old hoses and gadgets. I was pleased to learn Lippert had an optional adapter available for folks that still need a bayonet style connection sometimes. You never know when you may want to use a handy sewer gadget of some kind, like a waste tank back flusher.
Conclusion
After using the Waste Master system for a few weeks, I have to say I'm extremely pleased with it. I recommend it to any of my fellow RVers out there looking for RV sewer hoses that will last. The materials used and construction quality are A+. I really like the positive seal it provides at the sewer drain hole, without a lot of fumbling about. Also, the cam lock connections are a winner in my book.
The only concern for me was storage as the elbowed head does not detach. The hose does compress to a surprisingly small length, but I had to come up with an alternate storage solution to my current location in my trailer bumper. I figured out a great way to do this by mounting a Lippert plastic storage box about where the existing sewer output point was on my 2011 Keystone Cougar trailer. The Lippert Waste Master storage box is uniquely sized to store the Waste Master Sewer Hose with just one 180 degrees coil required. You can see more about this solution in the video below.
Watch Ray's Video Review for More Information
Learn more about Ray's Waste Master RV Waste Hose Storage Solution
RAY BURR is a full-time RVing nomad in search of beautiful landscapes, new adventures and interesting people. He, his wife Anne and their beagle Angie love hitting the road in their 1994 Ford F350 towing a 30-foot 2011 Keystone Cougar fifth-wheel to explore this great land. They have fully embraced the RV lifestyle and love the freedom and fun it offers. Check out Ray's blog at loveyourRV.com for travel logs, tips and tricks, mods and upgrades, RV product reviews, photos, videos and more.
Buy the Waste Master Sewer Hose for Your Travel Trailer, 5th Wheel or Motorhome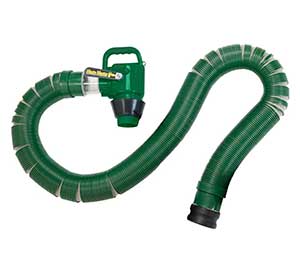 Waste Master® 20' RV Sewer Hose Kit and Cam Lock Connector
The Waste Master® isn't just a hose and nozzle. It comes complete with a time-tested cam lock connector that ensures a leak-resistant connection. With the patented hose design, the helical coil is on the outside while the inside is smooth, preventing trapped waste. The permanently attached nozzle is molded with an easy-grip handle, an integrated shut-off valve, and a clear view port.
Pictured: Waste Master® 20' Hose Kit and Cam Lock Connector


Waste Master® RV Sewer Hose Accessories
Everything you need to go along with your Waste Master RV Sewer Hose, from the bayonet fitting converter to spare parts, replacement seals, and more.
Pictured: Waste Master® Bayonet Fitting Converter