Your Guide to RVing in the Winter
You may already know that moisture inside an RV is not good. Leaks and high humidity within your RV can lead to mold and mildew and deterioration of RV cabinets, flooring, walls and ceilings. But did you know that condensation and ventilation is one of the trickiest parts of winter RV camping?
Keeping the inside of your RV warm and dry in wintertime means taking a few extra measures. In this blog post, we will provide solutions to some of the most difficult parts of living in an RV full time or traveling in a camper, specifically during the winter. First, let's talk about the issue of condensation and ventilation.
Moisture inside your RV is a year-round issue you should take care to prevent. It is especially challenging during the winter months because condensation occurs around windows and metal trim pieces in your camper when the air outside is colder than the air inside.
It is a good idea to invest in a humidity monitor or hygrometer if you are an RV owner and your thermostat does not include one. The ideal humidity level within your RV year-round should be about 40% although 30-50% is an acceptable range.
If your RV humidity levels get too high, there are a couple of things you can do to bring the levels down. First, you should open your RV roof vents. Even though it may be cold outside, opening vents in combination with raising the temperature in your RV is one of the best ways to decrease humidity levels within your camper.
If that isn't enough to bring down the humidity, you can also invest in a small dehumidifier to keep inside your RV. You can find these from around $20 upwards of $200, so shop around and make sure you consider features such as operating power and cubic feet.
Many normal activities such as showering, washing dishes and cooking contribute to higher humidity levels within your RV. Using your ceiling vents, running ventilation fans and opening windows are good ways to combat some of the humidity a shower brings into your coach. Covering your pots while cooking or cooking outside can also help prevent adding extra moisture to the air from steaming pots.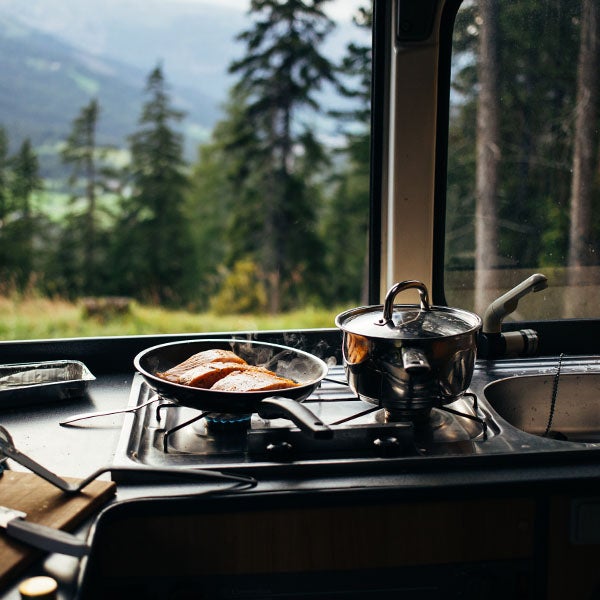 What About my RV Water Tanks in Winter?
There are three main types of water holding tanks in an RV: fresh, gray and black. Fresh water tanks contain your clean drinking water or potable water used in faucets. Gray water is shower water and fresh water once it goes down the drain. It usually contains soaps and possibly food particles. Black water is water that has been flushed down the toilet. It is essentially your sewer tank.
An important part of camping in the winter is taking care to prevent these water tanks from freezing—notice a theme? Water and winter camping are a combination that requires a little more attention than in the warmer months.
One option to avoid dealing with this is to drain your tanks and winterize them. This is only possible if you have alternative access to showers, toilets and fresh water elsewhere. This would also require you to not use your sinks since the gray water tank could freeze and cause the tank to become compromised. If you are an occasional winter RV camper, this may be a good possibility. However, if you live in your RV full time, especially in a campground that closes its bathhouses during the off-season, this may be more challenging.
How to keep your RV water tanks from freezing in winter
Step 1: Use a heated tank or heated blanket system
If you are lucky and have a newer RV, your holding tanks may have a heating feature that was factory-installed. But even if your camper does not have a heated system, you can easily purchase an aftermarket tank heating pad and install it on your water holding tanks. These pads are also sometimes called blankets. They essentially work like a heated blanket that you plug in when temps drop below freezing.
Step 2: Install RV skirting
RV skirting for winter camping is a great way to keep your pipes and tanks from succumbing to the frigid temps. Skirting goes around the entire bottom of the RV, keeping wind out and ambient heat in. There are many choices, from ready-made kits to DIY solutions. Materials include plywood, inflatable plastic, thermal reflective materials, faux brick, PVC and more. With so many options, you may wish to choose based on aesthetic preference and price.
Step 3: Use antifreeze in your grey and black water tanks
While it may be obvious, pink RV antifreeze should only be used in your gray and black water holding tanks. Never put blue automotive antifreeze in your RV's water tanks because it is toxic. Even though it is somewhat common to use RV antifreeze in your freshwater tank, this can lead to an odd taste in your drinking water even after rinsing. If you're wondering how much antifreeze to place in your gray and black water tanks, the answer is, it depends on the size of your tanks. As your tanks fill, you need to keep adding more antifreeze.
*Only use RV antifreeze not automotive antifreeze. RV antifreeze is pink, and the fumes are non-toxic.
Step 4: Pipes and hoses need protecting too
Filling your freshwater tank with water and opting to use the tank rather than an external hookup will prevent your hoses from freezing. There are also many additional products on the market that help insulate your pipes and hoses. Heat tape can be applied to pipes and hoses and requires an electrical connection. Extra insulation, keeping hoses inside when not in use and special hose fittings for cold weather are all ways to keep your RV pipes from freezing during winter camping.
Step 5: Winterize tanks and use bottled water and public restrooms
If you are planning a short RV camping trip such as a snowboarding, skiing, or sledding weekend and heating your camper's water holding tanks is too much trouble, you can winterize your tanks first. Be sure to flush all water from your tanks and lines and run antifreeze through the pipes. The Floe by Lippert is an excellent product to make sure all the water is cleared from your lines to protect them from freezing. Here is a quick video explaining how Floe works:
Before heading out on your first snowcation of the year, practice some quick maneuvers in an empty parking lot. If you are heading from warmer weather to a colder climate, you may need to wait to do this until you are closer to your destination. The idea is to be prepared for potential road hazards due to inclement weather. If you are aware of how your vehicle handles you may be better prepared if an emergency occurs.
Check your tires to make sure they do not need replacing or rotating. You may need to invest in some tire chains especially if you are traveling to a mountainous area for winter sports and sightseeing. The Lippert Tire Linc is an electric tire monitoring safety system that alerts you of potential tire problems based on pressure and temperature changes. See how it works here: Tire Linc for Temp and Pressure Monitoring
7 Tips Before You Go on a Winter RV Trip
While we covered some of the major components of winter RVing, this is not an exhaustive list. Here are some more tips to research on your own or in future blog posts.
1. Have your RV inspected by a certified RV technician to ensure everything is in working order. The last thing you want to happen is your furnace going out while you are on the ski slopes.
2. Check your battery to make sure it does not need to be replaced soon.
3. Cover your windows and floors with heavy drapery and rugs to keep the heat in.
4. Make sure your camper has functioning smoke and carbon monoxide alarms with fresh batteries.
5. If you drive a diesel motorhome, use a fuel with an anti-freezing additive.
6. Research your trip so you know which parks, roads and campgrounds are closed. Being prepared can make you safer and ensures your trip will go as planned.
7. Keep warm and enjoy the outdoors no matter the season!
Lippert OneControl is an integrated app that monitors your RV systems in one place. Since winter RVing requires closer monitoring of your RV systems, OneControl is especially helpful. Learn how it works in this video: