Do you winterize your RV with an air compressor?
Floe
If so, you're either lugging an air compressor around or you're paying a professional to do a job that really isn't that complicated. Meet Floe. An industry-first, integrated water drain-down system designed for life on the road. Floe helps you easily remove stagnant water from your lines, protecting your family, friends, and pets from potentially harmful bacteria. And, if RV winterization is a must, Floe makes that easy, too. Why would you spend the time and money to pay a professional when you can do it yourself?
Why Floë?
Drains your RV Water System in Minutes
Floë cleans out stagnant water that could cause harmful bacteria growth by blowing out RV water lines using compressed air pressure. It's an easy, convenient way to clean your RV, boat, or any mobile vehicle's freshwater system.
Great DIY Option for RV Winterization
Floë saves you time and money when winterizing your RV. No more paying a professional. it's so simple to use, you won't even need to dismantle your water system for installation.
Fresh Water For the Whole Family
Floë offers you the peace of mind and ease of draining your lines whenever and as often as you'd like, in no time, you can get back to enjoying drinkable water that's ready for your family, friends and pets to use.
Introducing Floë: Water Drain Down System for RVs
The Power of Floë
Flushes stale, stagnant water out of pipes
Helps prevent frost damage during winter months
Saves time and money winterizing RV or boat with a professional
Drains water system in minutes
Easy installation, no dismantling necessary
NSF 61 and UL verified and approved
Backed by a reliable 1-year warranty
Floë Induratec Series
Choose your system! Whether you're operating with a 12-volt power supply or you have access to a 115-volt main AC outlet, both the Floe 636 and Floe 838 are easy to install and even easier to use. And both systems work with more than just RVs.
No power outlet? No problem.
Floë 636
Mobile: 12 Volt DC
No power outlet? No problem. The Floë 636 system can connect directly to your RV's 12V power source. This is the perfect option for RVs, trailers, and boats that don't have an alternative power supply, or an outlet located near your Floë system.
Floë 868
Static: 115 Volt Main AC
The Floë 868 plugs right into your main AC power outlet — making it an easy solution for any recreational vehicle or property that has a freshwater system needing to be winterized or flushed.
Here's How Floë Works
Step 1
Manually drain water heater and close dump valve and outlets after to seal water system.
Step 2
Switch Floë on to compress air into water system.
Step 3
Open and drain each outlet one by one.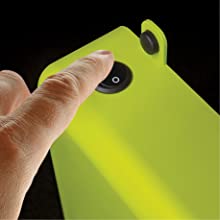 Step 4
Switch Floë off and leave all water outlets open.
Want More Details on How to Install & Operate Floë? Watch this Video...
No matter your power source, Floë can get the job done.
WHAT'S INCLUDED: Floë 636
13" Air Line (1)
CTS One-way Valve Tee 1/2"
CTS Barbed Connectors 1/2" (2)
Hose Clamps (2)
Shutoff Fitting 3/8" (1)
Right Angle Fitting 3/8" (1)
Barbed Connector 3/8" (1)
Anti-Vibration Washers (4)
Pan Head Screws (4)
White Retainer Washers (4)
Black Screw Caps (4)
13" Fused DC Cable (1)
In-line DC Switch (1)
Cigar/Cigarette Lighter Connector (1)
Cable Tie (1)
Anti-splash Cloth (1)
WHAT'S INCLUDED: Floë 868
13" Air Line (1)
CTS One-way Valve Tee 1/2" (1)
CTS Barbed Connectors 1/2" (2)
Hose Clamps (2)
Shutoff Fitting 3/8" (1)
Right Angle Fitting 3/8" (1)
Barbed Connector 3/8" (1)
Anti-Vibration Washers (4)
Pan Head Screws (4)
White Retainer Washers (4)
Black Screw Caps (4)
Cable Tie (1)
Anti-splash Cloth (1)