The Ultimate RV Maintenance Checklist
About 70% of the failures RV technicians see when repairing RVs are due to a lack of maintenance. Regularly inspecting your rig as an RV owner and performing routine maintenance tasks are key to making your home on wheels last for many years. However, if you don't keep up with your RV maintenance, it can lead to unexpected costly repairs that will dry up your savings in a hurry.
Also, just like a home, proper maintenance leads to a resale value increase on your investment. If you ever want to sell your travel trailer, 5th wheel or motorhome, you'll want to show documented RV maintenance, so you'll get some bang for your buck when you're ready to sell.
Check out our list of RV maintenance tips that you should perform before your trip, monthly, seasonally and annually if you want to keep your rig in tip-top shape.
Disclaimer: These recommendations are intended for basic maintenance reference and are not all inclusive due to the unlimited number of potential components. Please refer to OEM documents for proper engine, transmission, chassis and any other maintenance specific to your RV. (Don't forget your tow vehicle, if applicable.)
Safety Notice: When performing any tasks on or around your RV, always ensure you are following proper safety precautions and using appropriate safety gear.
RV Maintenance Steps to Take Before Your Trip
Before you put it in drive and start heading toward your destination, there are a few things to do that could save you from costly damage on the road.
Read Your Manuals
Especially if you're a brand-new RV owner, you should take the time to read through each RV manual you've been given before your first trip so that you understand how to use and maintain the systems specific to your RV.
We recommend reading the basic operation, warranty, and maintenance sections, even if you don't take the time to read anything else. It's especially important for you to understand the warranty sections of each manual because it can void your warranty if you do a DIY project or have unqualified work done to your unit or components.
Even if you've had your RV for several years and consider yourself an experienced RVer, you should periodically revisit these manuals to ensure you're properly taking care of your systems.
Check Your Tires and Wheels
The last thing you want is to be stranded on the side of the road due to a flat tire or wobbly wheel. Before you pull out, you'll want to check your tires and tighten all your lug nuts.
Overinflated tires can cause a blowout, which can lead to damaging your RV or a traffic accident. Underinflated tires lead to bent rims, handling issues and decreased fuel economy. To always stay in-the-know about your tire pressure and temperature, we recommend installing an RV tire pressure monitoring system, or TPMS. Using a TPMS will allow you to get real-time notifications on your smartphone if your tire pressure or temperature breaches your tire's specified limits.
While you're checking your tires, you should also:
Clean off road tar, oil and dirt
Inspect for cracks and dry rot
Apply a UV-protective tire dressing that is alcohol, silicone, and petroleum-free
Now on to the wheels. Loose lug nuts lead to lost wheels on the highway — yikes! Before your trip, be sure to inspect and tighten all your lug nuts since they may have loosened up during a previous trip or while your rig was in storage.
Check the Electrical Connection from Your RV to Tow Vehicle
To ensure your safety on the road, you'll want fully functional brakes and lighting, as well as a fully charged RV battery. Check the connection from your RV to your tow vehicle to make sure all your electrical systems are working properly, including your trailer brakes, brake lights and turn signals. This electrical connection also gives you the opportunity to charge your RV battery while you're driving.
Monthly RV Maintenance
Perform the following tasks on a monthly basis to keep your seals, systems and safety equipment in proper working order.
Check Your Seals
Fill in any gaps and reseal around your RV regularly to avoid air and water penetration. You'll want to use an RV sealant on your roof and around your windows, doors, sidewalls and more to ensure they will hold up to the elements.
Clean and Lubricate Your Slide-Outs
Regularly cleaning and lubricating your slide-outs will help them slide in and out smoothly. If you don't clean your slide-outs with hot soapy water regularly, they will get buildup around the seals, which could cause damage to the slider mechanisms. Additionally, lubricating your seals with an RV-specific spray lubricant will allow your slide-outs to move smoothly, creating less resistance on the motors. If you need more help with slide-out maintenance, be sure to read our five quick tips for slide-out maintenance.
Check Your Batteries
Don't let a dead RV battery take the fun out of your adventure. Be sure to check your battery regularly and keep it charged. It's a good idea to top off the water levels once a month using distilled water only. A result of not checking your batteries will be a series of issues in your RV related to low voltage that might not be obvious. This could lead to long, frustrating troubleshooting.
Pro tip: Purchase a voltmeter and know how to use it. About 70% of issues in your RV will involve electrical troubleshooting.
Also, if you plan to store your RV for the winter, you should take the battery out of your RV and store it somewhere warm. If you don't do this, the cold weather could ruin your battery.
Check Hoses, Clamps and Fluid Levels
Regularly checking the engine and systems under the hood is essential for avoiding costly repairs. Make sure all your hoses and clamps are secure and check for leaking. While you're under there, it's a good idea to check your oil, coolant and wiper fluid to make sure they are topped off and good to go. If you need an oil change, get that taken care of as soon as possible.
Run and Service Your Generator
To keep the gas moving through your generator, you'll want to run it each month (at least two hours at 50% load) even while it's in storage. Servicing your generator is just as important. Check the manufacturer's owner's manual for recommendations on how often the oil and filter should be changed and service it on a regular basis.
Clean Your A/C Unit
Vacuum and clean out the vents in your air conditioner to keep the airflow cold and constant in your rig. As dust builds in your ducts, it could result in a unit that is stressed, freezes up and could prematurely fail.
Test Your Detectors
If the batteries in your smoke and carbon monoxide detectors need changed, don't put it off! Regularly test safety equipment like the detectors in your rig so that you will immediately know when something goes awry in your RV.
Check for Pests
Rodents, insects and other critters can cause huge issues when it comes to the structure of your RV and the wiring. Regularly inspect for signs of entry and be on the lookout for access points, then fix them immediately to avoid further issues or damage.
Be sure to pay close attention to these areas if you want to be thorough:
Propane tank — Many insects are attracted to this component of your RV.
Water heater, furnace and refrigerator — Insects love to hang out where there might be moisture or food.
Vents — These areas provide pre-made "nests" for bugs and animals.
Seasonal RV Maintenance
Keep your engine lubricated and your RV sparkly with these seasonal maintenance tips.
Wash and Wax Your Exterior
Some car wash locations have big enough bays for RVs, but it's easy enough to wash your rig yourself. We recommend using a power washer to spray down the sides of your RV, tires and undercarriage to blast off any dirt and mud that may have compacted.
When it comes to soap, make sure you're using an RV-safe cleaning product that includes UV protection so you can defend your RV against harsh rays of the sun, especially in the summer. If you want to go the extra mile to make your rig fresh and new, you'll also want to consider giving it a coat of wax. Using the right wax and cleaning supplies is crucial, so check with your OEM for specifics.
The exterior of your RV includes your roof! Don't forget to use a roof cleaner specifically designed for rubber roofing materials on RVs. While you're up there, inspect your seals and seams to see if you find any entry points for moisture.
Deep Clean Your Interior
Whether your RV has been in storage or not, it's good to give your RV a thorough deep clean a couple times a year. Food crumbs and drink spills, among other things, can cause larger issues if they're not taken care of properly. You'll want to dust, scrub and sanitize every surface to rid your RV of unwanted dirt, debris and bacteria.
While you're deep cleaning, you should also consider:
Cleaning your RV furniture and other vinyl, leather or carpet surfaces with an RV-safe cleaner.
Turning over and inspecting your mattresses to determine if you need RV mattress or bunk mat replacements. If it's been a few years, you're probably in the market for some new sleep solutions.
Clean or Replace Your Awning Fabric
Giving your RV awning a good wash can help rid it of mold, mildew, bird droppings, tree sap and other debris Mother Nature leaves behind. These things can cause your RV awning to get stuck or tear in places where buildup is present. Speaking of that— if you find holes or tears while you're washing your awning, it might be time to consider an RV awning fabric replacement.
Get an Oil Change
If you're driving a motorhome, it's crucial to keep up with your oil changes. If you don't, your RV engine won't stay properly lubricated, and you'll have an expensive engine replacement on your hands. Most motorhomes need an oil change every 3,000 to 4,500 miles, but you should consult your manufacturer's owner's manual for oil change recommendations specific to your RV.
Replace Air, Fuel, Coolant and Hydraulic Filters
Speaking of wear and tear on your engine, you should also replace air, fuel, coolant and hydraulic filters when you're getting your oil changed. Not changing out your filters could lead to increased fuel consumption, overheating and oxidization in the hydraulic system. Sounds expensive, right?
Flush and Clean Your Holding Tanks
Most RVs come with three different kinds of holding tanks for fresh water, grey water and black water. (If you don't know the difference between your holding tanks, check out our RV terms and definitions blog post to learn more.) Each tank requires different care.
Fresh water tank — You'll want to keep the water in this tank... well, fresh. To do this, perform a bi-annual flush with a 1/4 cup of bleach per 15 gallons of water. Fill the tank with the bleach and water solution, let it sit for a day, then flush and refill several times to make sure all the bleach gets out of the system.
Grey water tank — While not as scary as your black water tank, your grey water tank can still start to stink from food residue, soap scum and grease. Periodically cleaning your grey water tank will help avoid clogging. To clean the tank, add a cleaning agent (there are several different solutions that are holding tank safe), take a drive to slosh around the solution in the tank, drain it, then rinse using a flush valve. If you want to keep your grey tank from stinking, you should add an odor blocker every few times you dump.
Black water tank — And now for the least glamorous tank. When cleaning your black tank, you'll want to exercise caution and wear gloves. After you drain your tank with an RV sewer hose, use a macerator, flush valve or tank rinser to thoroughly clean the tank and remove buildup. Then, add water back into the tank by flushing the toilet and add an environmentally friendly tank treatment to prevent clogs and foul odors.
Change Your Water Filter
Most water filters will last for about six months, so be sure to change them out when it's time.
Treat Metal Components
For squeaky equipment and areas prone to rust, use a spray lubricant or rust inhibitor to give components like your hitch, RV steps, leveling jacks and chassis added protection. Doing this periodically will help your equipment function correctly and smoothly.
Check & Clean Your Appliances
Deep clean your water heater per manufacturer specifications (annually if not used frequently or in soft water areas) and replace the anode rod, if applicable.
You'll also want to open the access panels behind the water heater, refrigerator and furnace, then clean out any dirt, debris and bug nests that may have accumulated over the camping season.
Turn on and run all your appliances. Don't forget that your furnace, water heater and RV-style absorption refrigerator are typically also 12V DC appliances, so make sure you are checking functionality on AC, DC and propane, if applicable.
Weigh Your RV
Stay within the safe operating limits for your RV by periodically checking the weight of your load. You can visit a local weigh station to do this or purchase a mobile towing scale that hooks into your OBD-II port. Connecting your smartphone to a mobile towing scale will allow you to see real-time vehicle-trailer weights for safer, easier towing and hauling.
Pack and/or Repack Your First Aid Kit and Toolbox
Over the last camping season, you may have used some bandages out of your first aid kit or screws from your toolbox. Don't leave yourself empty-handed this camping season, and restock the items you've used.
Annual RV Maintenance
Sometimes, maintaining the systems in your RV requires a professional. Have a certified technician look over your RV for the following yearly maintenance tasks.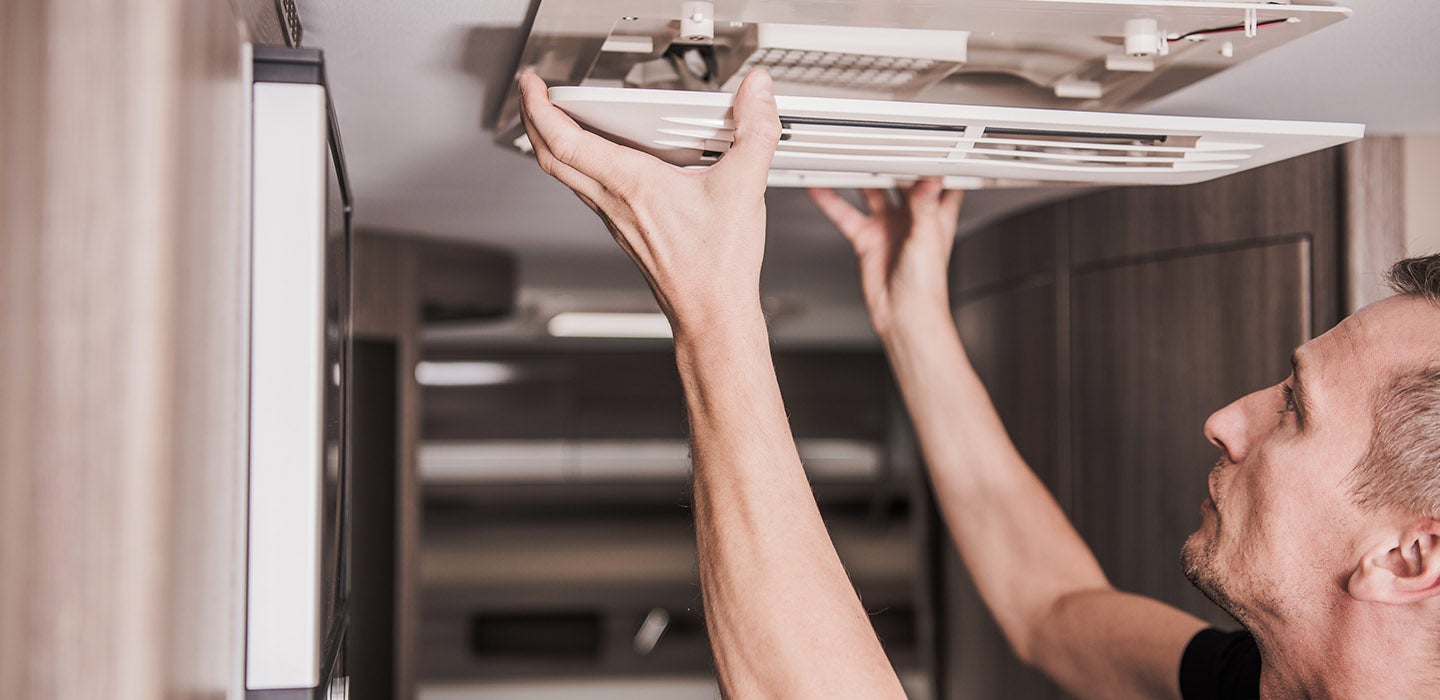 Service Your Heating and Cooling Solutions
Get your heat and A/C systems tuned up by a professional yearly, just like you would for a residential home. Doing this should help you avoid unexpected breakdowns in your climate control.
Service Your Brakes
Getting your brakes serviced once a year can help you stay safe on the road. You'll want to make sure your brake pads have plenty of material to last through the year and your brake fluid is topped off. Additionally, if you're hauling a travel trailer, we suggest purchasing a trailer brake controller to keep an eye on all your braking activity through your smartphone.
Inspect Your Propane
Have a qualified technician check for leaks, rust and damage that may have occurred on your RV propane tank once a year. Doing this will avoid potential fire damage or an explosion.
Keep a Log
Keep an RV maintenance checklist handy to keep track of your maintenance checks, repairs and replacements. Documented maintenance will help you remember the tasks you need to do and what you've already done.
It's Okay to Ask for RV Maintenance Help!
We understand that living life on the road doesn't always go as planned, even if you perform regular RV maintenance. If you find that you need help operating or maintaining the components and systems in your RV, there's no shame in asking a technician for help.
RV Tech Bridge is your go-to resource for all things RV! Whether you're driving a motorhome, hauling a camper or towing a trailer, the qualified remote technicians at RV Tech Bridge will help you master your RV. They can provide step-by-step installation instructions, maintenance advice, troubleshooting guidance and so much more.
On the site, you can also find useful content that will help grow your RV knowledge.
How RV Tech Bridge Can Help
The RV Tech Bridge program provides technical support for RVers. It's a service that works in three simple steps:
1. Choose to contact a technician through live chat, phone, email, text or visual remote assistance.
2. Describe your concern.
3. Get the support you need in a timely manner.